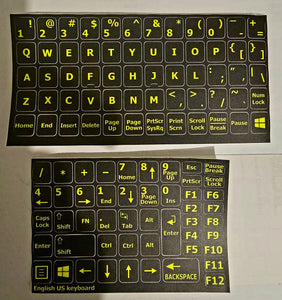 Glowing fluorescent keyboard stickers for US keyboard
Aussie Kids Software
Regular price $11.99 Sale
For high-visibility, choose Glowing Fluorescent Stickers that stand out!
Glowing Fluorescent keyboard stickers with high visibility in normal and low-light, especially effective in twilight and poor visibility conditions.
Stickers are not 'Glow-in-the Dark' – They have a FLUORESCENT REFLECTIVE EFFECT.
The benefits of having Glowing Fluorescent keyboard stickers are as following:
Suitable for any standard keyboard or laptop model.

Eliminate eyes fatigue.

Permits to use your keyboard, laptop in the dark (with monitor on).

Very useful for people with poor vision.

Widely used by students, police departments, DJs as well as movie and music productions, etc, etc.
English US Glowing Fluorescent keyboard stickers are vibrant, bright-coloured which are proven to be the best solution to work on your computer even in dim or poorly lit places.
Glowing characters pick up any source of light coming in/ through ( such as light from your own monitor, laptop, or even USB light etc, etc) - allowing keyboard characters to brighten up immediately by reflecting the light, yet, stickers are not the source of light themselves. It is the same effect as road sign reflection, or strips on uniform worn by construction workers or police.
These English US Glowing keyboard stickers are made of a high-quality fluorescent vinyl, are durable and efficient.
The set has been split into two images (comes in one long set) for more close-up imaging.